I am pleased to announce the X99-Phoenix SLI received HardOCP's Editors Choice Silver Award!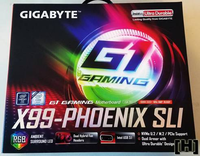 "The layout of the X99 Phoenix SLI is quite good. Given the standard ATX layout, I don't think GIGABYTE could have done any better. Going to E-ATX has obvious advantages for layout, but there are plenty of options in that arena. Sticking to a standard ATX layouts gives the X99 Phoenix SLI broader appeal. The X99 Phoenix SLI features 3 fan headers and one dedicated water pump header."
"The design provides optimal space between the first two PCI-Express slots for the purpose of 2-Way SLI or Crossfire usage. The last slots give you options between optimal spacing for 3-Way SLI or Crossfire."
The X99-Phoenix mobo has to be my personal favorite board, but maybe I am a little bit biased
There is a whole bunch more to this review you should see if you are considering this board for your next build. And it's
over here!